St Thomas More young talent stars at Wakakirri Challenge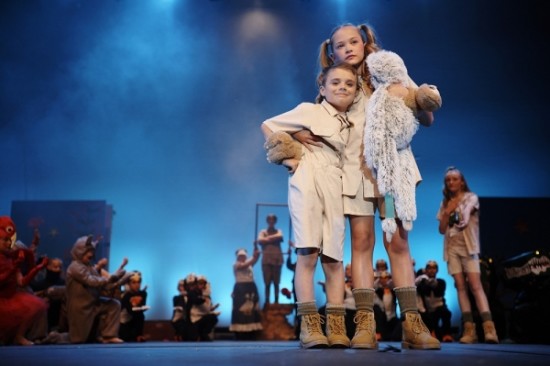 They may be young but they're not lacking in talent! Our students have shone in this year's Wakakirri Story-Dance Challenge extravaganza - Australia's largest performing arts event for schools - held at Riverside Theatre in Parramatta. The theme of our students' dance had guests captivated and enthralled, winning the school the 'Best Biographical History Story Award'!
How do you replicate an Australian icon through dance? This was the challenge that dancers from St Thomas More set themselves when they chose the leading 'character' for their performance which fitted into the event's main theme of 'Story of the Year'.
Their tale? The career of 'Crocodile Hunter' Steve Irwin. The resulting dance, which involved creative sets and props, vibrant costumes and an upbeat and humorous soundtrack, clearly impressed as the school is currently in the running for the top national award.
Our school dance group - which consisted of over 100 students from Kindergarten to Year 6 - interpreted Steve Irwin's legacy since his death through creativity and characterisation, showing how the adventurer's family pick-up his mantle and continue his protective work as 'wildlife warriors'.

The Wakakirri judging panel commended St Thomas More for their astute piece. "A clever, passionate performance honouring and celebrating a true Australian icon," said Wakakirri judge, Danielle Barnes.
Due to these exceptional efforts, St Thomas More was invited to perform for a second time during September at Wakakirri's Sydney Primary Awards Night held at Quaycentre in Sydney Olympic Park alongside twenty-two finalist schools.
It was an exciting undertaking, showed amidst storytelling performances by other schools which included a cross-section of topics concerning today's youth; the environment, mental health, technology and other Australian issues.
St Thomas More has since been announced as one of the region's top winners to now go into the running for Wakakirri's coveted 'Story of the Year Award' in the Primary School Challenge, and in the running for the 'People's Choice Award' as voted by the public.
This year the 'Story of the Year' will be decided by Wakakirri's National Panel of industry professionals including Emma Watkins (the yellow Wiggle), Andrew McFarlane, Justine Clarke, Alex Papps, and Caroline Kaspar.
"Our school has performed exceptionally well in the competition. The challenge provides leadership opportunities, builds confidence and allows students from all backgrounds and academic levels the opportunity to feel successful within our school" — Principal, Philip Barrington
The annual dance competition is an important milestone for many young people. "Our students love the connections they make with other students in different year levels," said Assistant Principal, Joanne MacFetters. "It is great to see the students work together as a team and grow as individuals."
Mrs MacFetters thanked staff and parents for their hard work and time, particularly the main team of organisers - Mrs Augustine (Wakakirri co-ordinator), Mrs Cornett, Miss McKenzie, Miss Figueiras, Miss Clapson, Mrs Ross and Miss Swallow. She also thanked all those behind the scenes whose creativity and teamwork made the event so memorable from props to costumes, hair and makeup.

What the students said:

"Ever since I was little I've wanted to be on stage. Getting the roll of younger Steve Irwin was amazing. Next thing I knew, I was on stage in front of a massive crowd screaming, cheering and [the audience] even laughing at me. This is all I could ever ask for" — Jacob, Year 5

"I liked wearing my costume and dancing. The big kids looked after me and helped me. It was lots of fun" — Ivy, Kindergarten

"I loved that all the people from our school were working together. I made new friends from other grades" — Avah, Year 2

"I loved Wakakirri because the story was amazing to watch, from the scary crocodiles to the groovy penguins. My favourite part was the rush we felt when we were nominated for 'Story of the Year'. I loved the whole experience" — Jack, Year 5

"For my last year of Wakakirri, what an experience! We had some stressful times getting ready, but it was well worth it. Having the best time of your life and getting to spend it with your friends - crikey! Who would have thought we would make it this far" — Isabella-Grace, Year 6

"Wakakirri was lots of fun. I liked that we told a true story and got to know about Steve Irwin" — Aiden, Year 3

"Wakakirri was a great experience and our story was magnificent. Having Steve Irwin's life on show was emotional, but it was great. It took a lot of hard work and cooperation, but it was worth it" — Katie, Year 5
The winners and runners up for 2019 'Story of the Year' will be announced at 12pm AEST on Thursday October 17, on Waka TV. St Thomas More have planned a special school assembly, for both students and parents, to watch and cheer on the live announcement.

*Photographs by WinkiPoP Media
---