Catholic Schools NSW Teacher Feature: Principal, Philip Barrington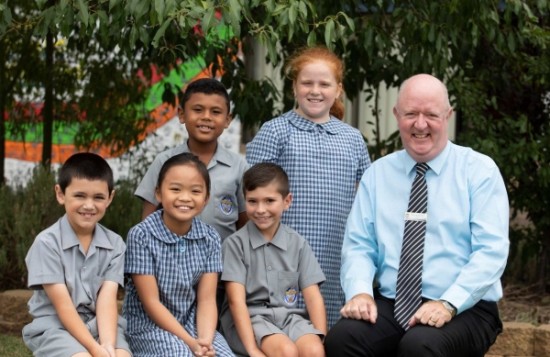 Catholic Schools NSW's latest 'Teacher Feature' stars our very own principal, Mr Philip Barrington! Catholic Schools NSW spent '#OneMinuteWith' Mr Barrington to ask him about his background in Catholic education and his hopes for the children in his care at St Thomas More.

WHAT MADE YOU BECOME INVOLVED IN EDUCATION?
I always enjoyed going to school and grew up with older siblings studying and working in education. I felt that I could support and assist others through a career in teaching.

WHERE DID YOU GO TO SCHOOL?
I attended Immaculate Heart of Mary Primary School Sefton (K-4), Marist Brothers Benedict Junior College Lidcombe (Years 5-6) and Marist Brothers Benedict Senior College Auburn (Years 7-12).

WAS THERE A TEACHER YOU HAD THAT INSPIRED YOU OR STOOD OUT?
I was fortunate to be influenced by many hardworking and friendly religious and lay teachers. My Year 5 and Year 6 teachers were great educators who were at the beginning of their careers who made learning fun and a great experience.

WHAT DO YOU HOPE TO ACHIEVE IN YOUR ROLE?
I hope that all children feel happy and safe at school and that they enjoy school so much that they want to attend every day. I hope that children feel that their needs are being met and that they are being provided with opportunities to be the best person that they can be and that they are being prepared for a bright and successful future.

IF YOU WERE EDUCATION MINISTER FOR A DAY, WHAT IS ONE THING THAT YOU WOULD CHANGE?
I would ensure that all primary schools were staffed with full-time Counsellors, Speech Therapists, Occupational Therapists, Pastoral Care workers and ICT technicians. These skilled professionals greatly assist schools to support the faith, learning and wellbeing needs of all members of the community.